Chia Seeds and More
DAY 3
CHIA SEEDS: Not just for your chia pet (the very first which was created in 1977)!!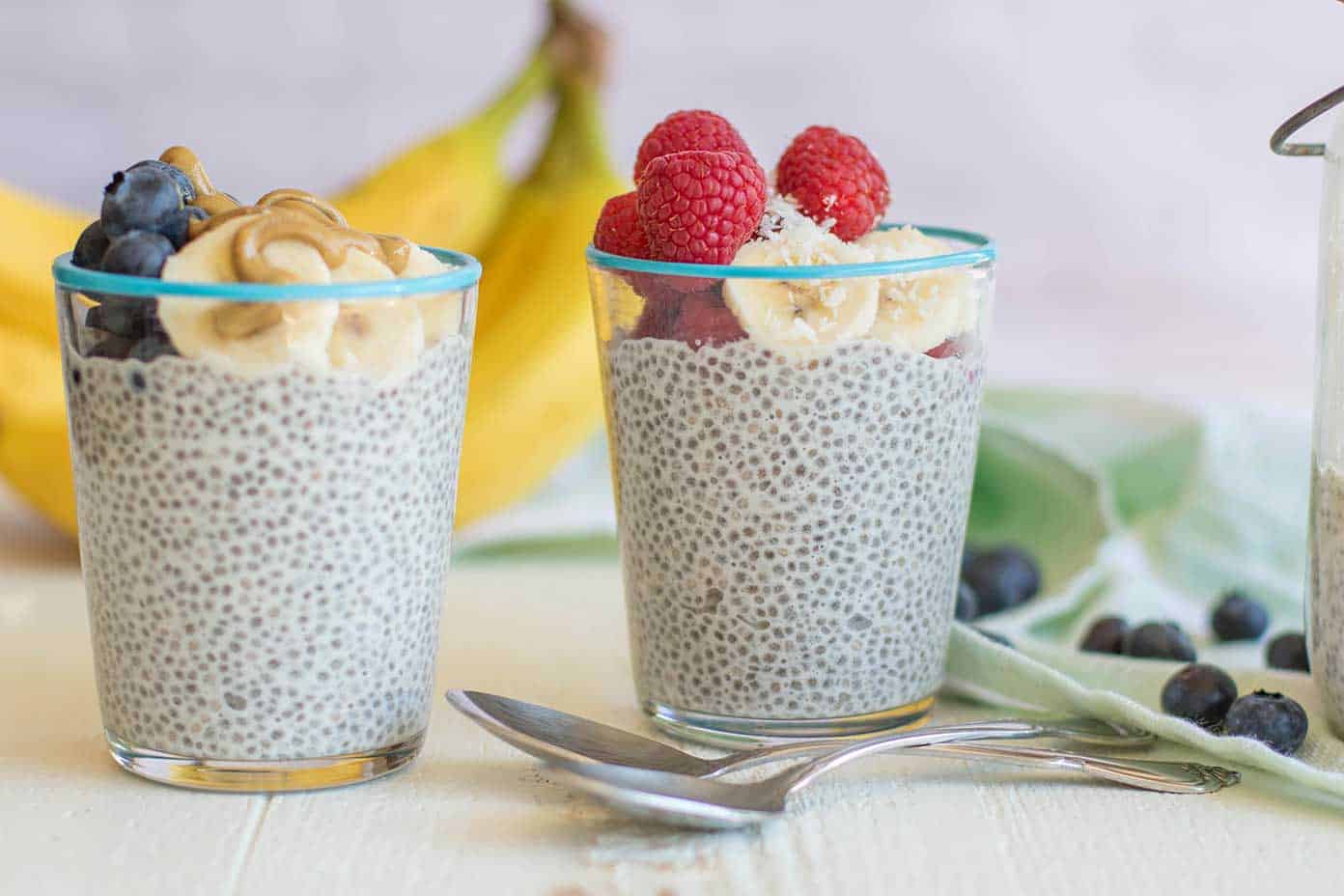 Despite their tiny size, chia seeds are among the most nutritious foods on the planet. They are loaded with fiber, protein, Omega-3 fatty acids and multiple micronutrients.
Breakfast: Chia Seed Pudding (Make the night before or an hour ahead) – makes 2 servings.
2 cups unsweetened almond milk
1/2 cup chia seeds
1-2 tbsps 100% pure maple syrup
1 tsp vanilla extract
*Serve topped with 1/4 cup berries and 1 tbsp walnuts.
Here is another delicious chia seed recipe from the Food Babe! She is a wealth of knowledge on health and nutrition 🙂
Snack 1: Veggies 'n Hummus
1 zucchini, cut lengthwise
1 large carrot, cut into spears
2 tbsp hummus
Lunch: Loaded Sweet Potato
1 medium sweet potato
1/4 diced avocado
1 scallion, diced
1/4 cup organic black beans
1 big handful of organic arugula or spinach
2 tbsp reduced fat feta cheese or goat cheese
Snack 2: Simple Trail Mix
2 tbsp dried chopped apricots or dates
1 tbsp chopped raw walnuts
1 tbsp raw pumpkin seeds
1 tsp unsalted sunflower seeds
1 tbsp golden raisins or craisins
*Tip: watch your portion sizes. Nuts are nutrient dense but high in calories.
Dinner: Quick Eggplant Parmesan
1 medium-sized eggplant (should be firm to the squeeze when picking one out)
1 cup sauce (if I don't have any homemade, my favorite is Victoria's or Rao's brand)
Juice of 1 lemon
Salt, pepper, Italian seasoning, granulated garlic
Directions: Slice eggplant into 1/4 inch rounds and lay on cookie sheet. Top with lemon juice and seasonings. Add a spoonful of sauce onto each slice. Bake at 400 for about 20 minutes. Sprinkle with crumbled goat cheese, feta or fresh grated Parmesan.
*Serve with a small side salad. The dressing should be 1 tsp each olive oil and vinegar.
---
AHHHHH – sweet potatoes! Seriously one of my favorite foods on the planet! I could eat them every day; baked, roasted, grilled, sautéed, in a hash, stuffed…
In fact, the only way I do not like them is the "traditional" Thanksgiving sweet potato casserole, overloaded with marshmallow sweetness.
Great for any occasion – try this one!
Low in calories, low in cost, heart healthy and full of antioxidants, sweet potatoes are also an excellent source of fiber, vitamins A, and C, iron, potassium, and folate.
Here is another simple sweet potato recipe, perfect for a fall or winter side dish.
Roasted Rosemary Sweet Potatoes
Preheat oven to 400 degrees.

Wash and cube (1 ½ inch pieces) your sweet potatoes.

Place in a bowl and set aside.

Chop/mince rosemary and garlic. Set aside.

Place sweet potatoes in a large Ziploc bag and add the olive oil, rosemary, garlic, sea salt, and pepper.

Close your bag and shake to make sure all ingredients mix well.

Place potatoes on a cookie sheet in the oven for 25 minutes.

After 25 minutes, remove from oven and gently toss potatoes using a spatula. Place in the oven and bake for another 10-15 minutes.
Rosemary is a great compliment to a fall sweet potato dish; also a good source of iron, calcium and vitamin B6. It is known for improved digestion and memory and is a rich source of antioxidants.